Cleanings & Prevention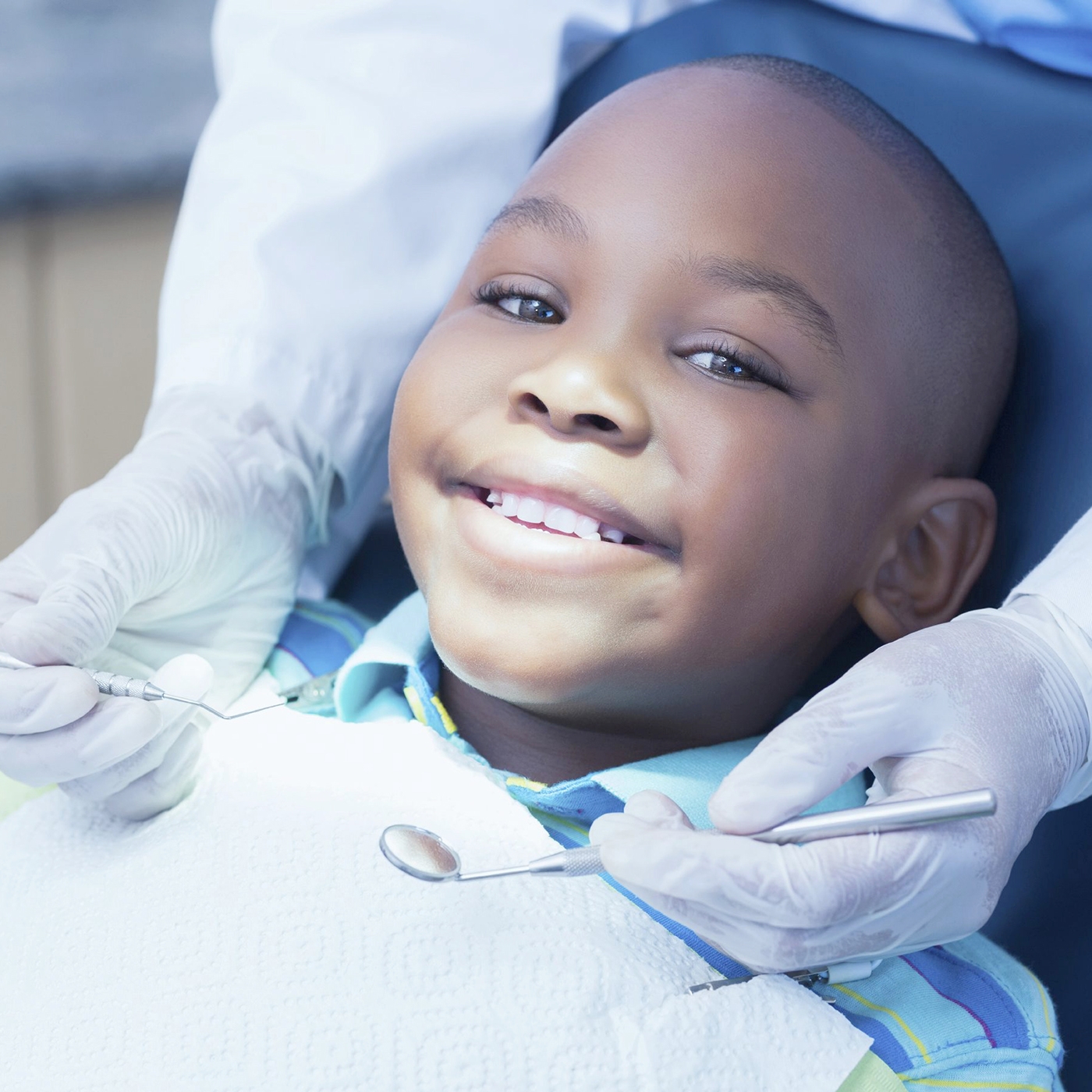 Laser Teeth whitening is a simple, non-invasive dental treatment used to change the color of natural tooth enamel and is an ideal way to enhance the beauty of your smile. Our team at Kidz Dental Care SCV and PR offers this treatment to our teenage patients with parental consent.
Because having whiter teeth has now become the number one aesthetic concern of most patients, there are a number of ways to whiten teeth. Since teeth whitening only works on natural tooth enamel, it is important to evaluate replacement of any old fillings, crowns, etc. Replacement of any restorations will be done after bleaching so they will match the newly bleached teeth.
Teeth whitening is not permanent. A touch-up may be needed every several years, and more often if you smoke, drink coffee, tea, or wine.
Exceptional Teeth Cleaning & Prevention Services for Santa Clarita Kids
There is nothing better than seeing the healthy, bright smile of your loved ones. Following a daily routine of brushing and flossing is a great habit, but it still does not replace the need for regular professional dental cleanings and examinations. At Kidz Dental Care SCV, we strive to provide your children with personalized treatments and essential guidance on protecting the health of their smile.
Kidz Dental Care SCV and PR is the dental home for your child from infancy and up to 18 years of age. We proudly serve our community in Valencia, Canyon Country, Newhall, Castaic, and all neighboring Santa Clarita communities. Call today and schedule your child's fun visit.
Gentle Children's Dental Cleanings
Dr. Kanuga and Dr. Hirano have a gentle chairside approach. She will give your children a caring and calm experience. Our team uses special instruments to get rid of plaque on their teeth and around the gumline. We then floss your child's teeth gently to remove any food particles hiding between the teeth.
Our professional cleaning will remove bacteria from your child's teeth that they can't remove independently by regular brushing. We find cleaning time an excellent opportunity to share information with your kids about the best ways to care for their smiles at home.
Fluoride & Sealant Treatments for Children
Fluoride is a mineral used to block acid from penetrating the enamel, thus preventing decay. Food acids and plaque weaken your enamel and cause gum disease, and possibly even tooth loss. Dr. Kanuga believes that the earlier we start using fluoride, the stronger the barrier we build to prevent acids from damaging teeth.
Besides providing fluoride treatments, we also offer sealants to serve as another layer of protection and help keep your child's smile healthy and free of cavities. Sealants are applied to the back teeth, where it is harder to reach, and they can last as long as ten years before requiring another application.
What's Involved in a Dental Exam?
Once your child's smile is clean, we perform our regular dental exam. We check for cavities, damage, and any underlying concerns. It also involves screening for sleep apnea symptoms. The purpose of these regular examinations is to identify any issues as early as possible. We are proactive to help your child avoid serious and costly treatments later.
The fun way we conduct dental exams helps build comfort and confidence with our office environment, ensuring future stress-free visits. We are well-trained and know how to deal with anxiety.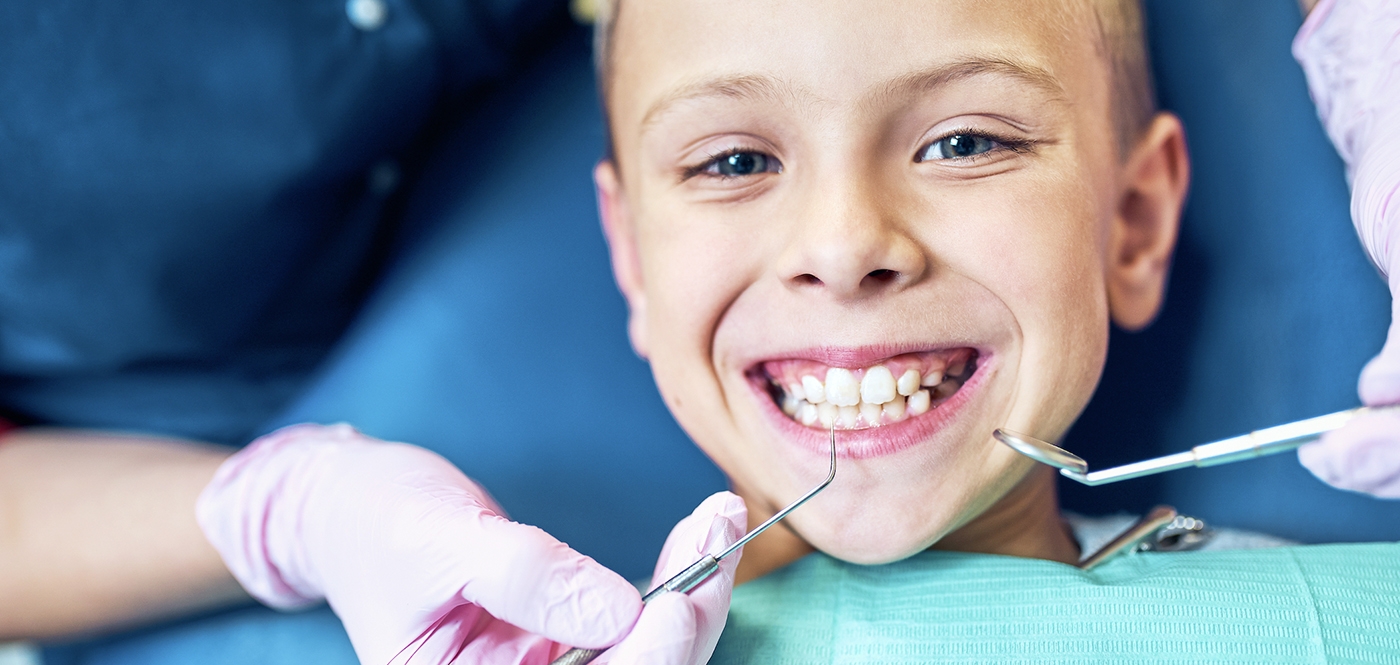 Patient Education and Healthy Diet for a Happy Smile
Poor nutrition can often cause damage or decay, in addition to inconsistent oral hygiene habits. What you eat impacts many aspects of your health, including your smile. For example, processed sugar and artificial chemicals or additives can accelerate the accumulation of harmful plaque.
Our team is happy to guide you and your children through nutritional counseling and dental hygiene tips. For infants, you can help protect against tooth decay by cleaning your baby's gums and teeth after each bottle or nursing. Make sure your baby finishes their bottle before going to bed to avoid bacteria buildup while they sleep.
Always make oral hygiene fun by using songs and games, rewarding them for good dental care, or letting them pick their toothbrush. It's also essential to help your kids brush and floss their teeth until they're mature enough to do it independently.
Frenectomies for Tongue-Tie
Some children are born with what is called a tongue-tie or ankyloglossia. For most children, the lingual frenulum is connected to the tongue's bottom, and they separate naturally right before they are born. When they don't separate, the child can have difficulty lifting their tongue upwards or moving it from side to side. It can also affect their ability to latch on during nursing and may affect their speech later.
Dr. Kanuga and Dr. Hirano can help you resolve this issue by performing a frenectomy. This procedure is simple and can be done at our practice. We gently release the tongue from the frenulum tissues with specialized technology.
Stress-Free Pulpotomies for Children
A pulpotomy is a root canal therapy for your child's baby tooth. Even though baby teeth will be replaced eventually, keeping the natural tooth structure helps maintain functionality and prevents eating and speech difficulties. When possible, it is beneficial to your child's well-being to save a baby tooth with a pulpotomy than extract it. Restorative procedures on baby teeth is preventive care for future adult teeth. Before the process, we do our very best to ensure your child is comfortable.
Excellent Dentistry for Teens
In addition to our comprehensive preventive dental care, we offer your teens orthodontic services to make sure their teeth are healthy and straight. For your convenience, we have an orthodontics specialist who shares our office.
Our compassionate staff is always available to help with accidents and injuries. We provide emergency services and sports guards and night guards to help you protect your teen's smile.
Creating Healthy Pediatric Smiles in Santa Clarita
Your child's oral health is vital to their overall health and quality of life. At Kidz Dental Care SCV and PR we're dedicated to providing your children with the cleanings and preventive care in Santa Clarita. If you're looking for a skilled pediatric dentist, call us and schedule your kid's friendly visit today!
Get In Touch
Monday - Friday
Saturday - Sunday
Monday - Friday
Saturday - Sunday